JC Casting is a manufacturer of espresso parts. The coffee machine parts are produced by the investment casting process. This process has higher specification precision, process performance, heat resistance and durability than other casting processes. As an investment casting manufacturer, we use a precision casting process, CNC machining process, and polishing process. We supply accessories for many coffee machine brands in the world. We have produced more than 40 kinds of coffee machine accessories.
Below are the coffee machine accessories we often produce: the group head, portafilter, piping and steam wands, and so on.
1. Group Head
The coffee machine group head is one of the most important components of the espresso machine. It is located on the front of the machine. We can insert the perforated filter into the group head when preparing espresso. Coffee machines generally have only one group head. But most commercial coffee machines (professional cafes, baristas) use up to 7 heads.
As a foundry manufacturer, we can produce a variety of group head parts. Including: Drain Unit, Connecting for Camshaft Body, Drain Unit Medium Cover, Infuser Plug, Nozzle Holder, Screw Connection for Camshaft Body, Shaft, etc.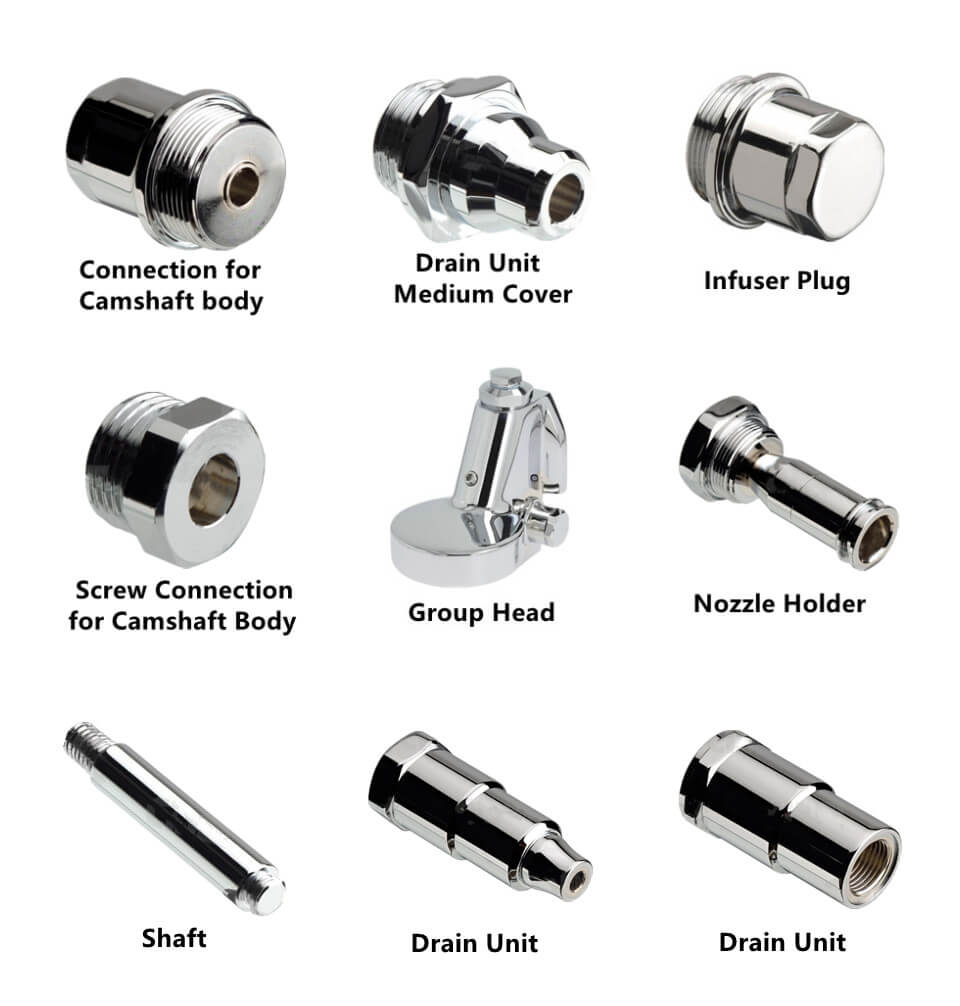 2. Portafilter
The portafilter is fixed at the group head of the espresso machine and locked within the group head. It is also known as a filter holder for coffee. Portafilter looks like a metal basket. Place the ground coffee into the portafilter bucket. When brewing coffee, the coffee flows out of the spout. Common Portafilter sizes are 53mm and 58mm.
We can produce coffee machine Portafilter and Portafilter parts for different types of coffee machines. Including Filterholder Body, 1 Way Coffee Spout(single filter portafilter), 2 Ways Coffee Spout(double filter portafilter), 3 Ways Coffee Spout(triple filter portafilter), Filter Holder Plug, etc.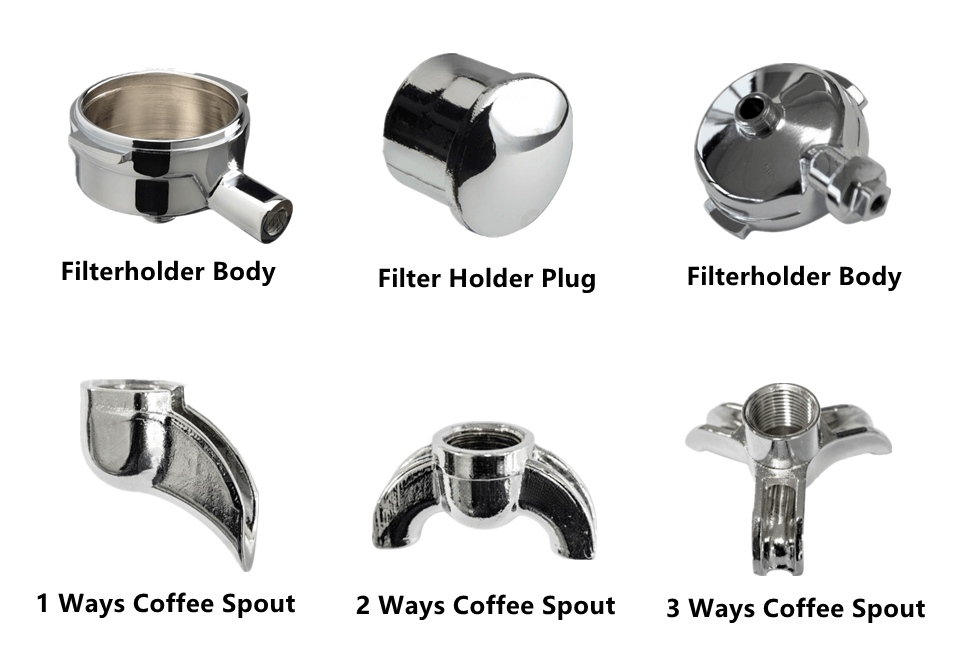 3. Coffee Powder Ring
The Coffee powder ring prevents the coffee powder from spilling out of the portafilter. Allowing the coffee powder to enter the mobile filter basket.
The Coffee powder ring prevents spilled ground coffee from messing up your countertops. And it can save you about 7% coffee powder!
We can produce coffee powder rings according to different sizes of the portafilter. If you need it, please contact us.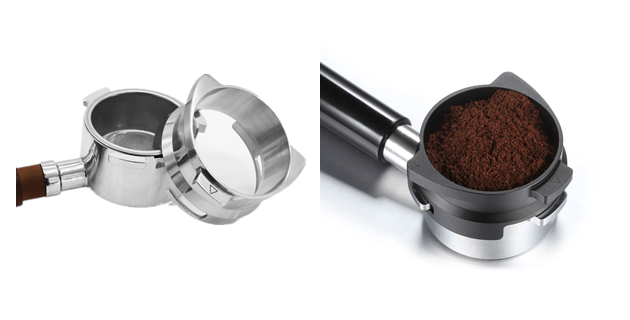 4. Coffee Machine Steam Pipe Assembly
We can supply a wide range of steam heads, taps, and other spare parts for espresso machines. We supply all types of spare parts for every model of espresso machine. They show longer life and durability when using steam and hot water on espresso machines.
The coffee machine steam pipe assembly we produce includes Hot Water Stem, Steam Pipe, Steam Pipe Nozzle, Water Pipe, Water/Steam Valve.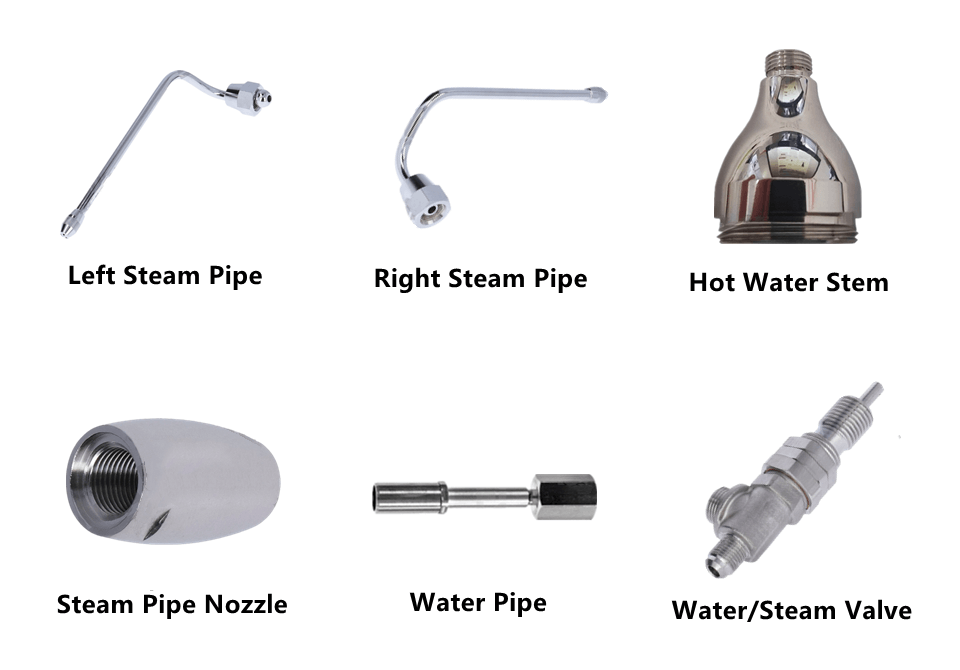 5. Coffee Machine Pump
The pump is a key element in the function and performance of your espresso machine. They need to provide high-pressure performance in tight spaces. Common coffee machine pumps include positive displacement rotary vane pumps, peristaltic pumps, gear pumps, and vibratory pumps.
We can make various types of coffee machine pump housings according to customers' requirements.
6. Coffee Machine Fittings
The coffee machine fittings we can produce include: Curved Fitting, Push-on Fitting, Screw, Sleeve Fitting, Straight Push-on Fitting, Water Pipe Assembly, and other accessories.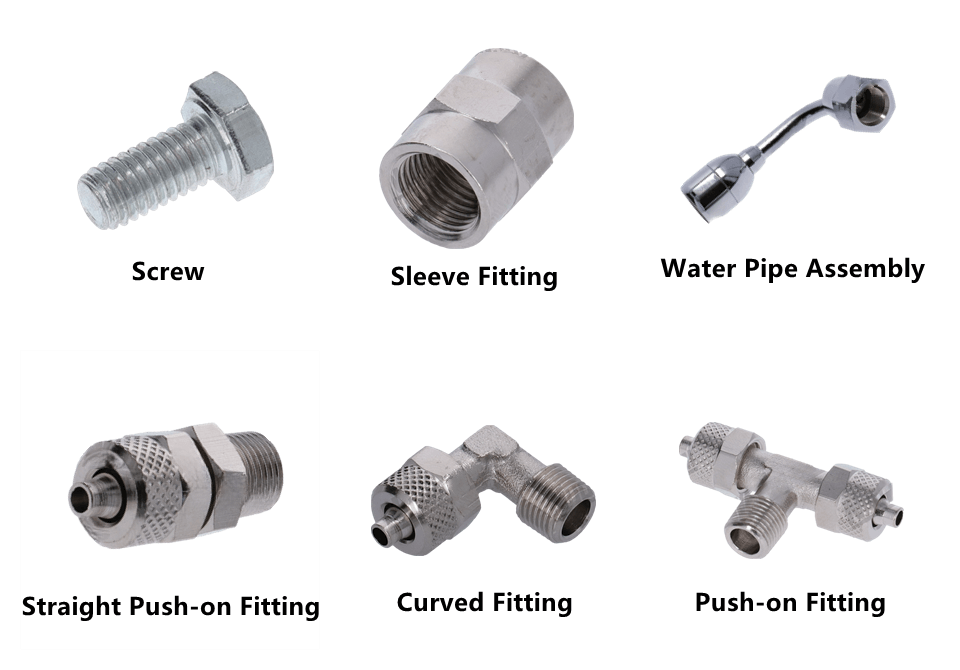 7. Coffee Machine Valve Assembly
The coffee machine valve assembly we can produce includes Boiler Anti-Vacuum Valve, Water Autofill Valve Assembly, Boiler Safety Valve, etc.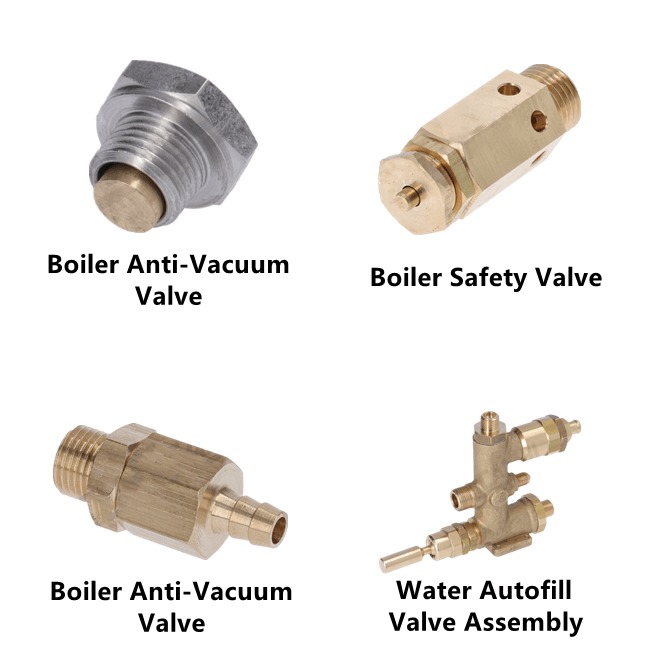 Coffee Machine Parts Manufacturer
JC Casting is a Coffee Machine Parts Manufacturer. We focus on the food machine industry for more than 10 years. We use high precision wax lost investment casting process. The raw materials are from high-reputation suppliers. We can provide Material certificate 3.1 for each batch.
Additionally, the investment casting process has the features of
Not limited by the size, thickness and complexity of castings.
Dimensional accuracy, small machining allowance.
Low cost
Can cast superalloy castings
High dimensional accuracy and surface finish
Plus our own CNC machining, High polishing process, our coffee machine parts has a stronger advantage in the market.
If you are in Coffee Machine industry, welcome contact us freely! Email: info@jccasting.com