What is Container Corner Casting? Container Corner Castings are corner parts for shipping containers. Container corner casting is the key element to the structural maneuverability of shipping containers. they allow shipping containers to not only be able to be locked together both horizontally and vertically. It is good for transport modes of ship, rail, and road.
JC Casting is an ISO 1161 container corner casting manufacturer and supplier in China.
Standard ISO container corner casting dimensions
Size: 178mm x 162mm x 118mm, 7.01*2.44*4.65 inch
Wall Thickness: 3/4 "
A standard shipping container uses 8 corner castings:
Top Left – 2
Top Right – 2
Bottom Left – 2
Bottom Right – 2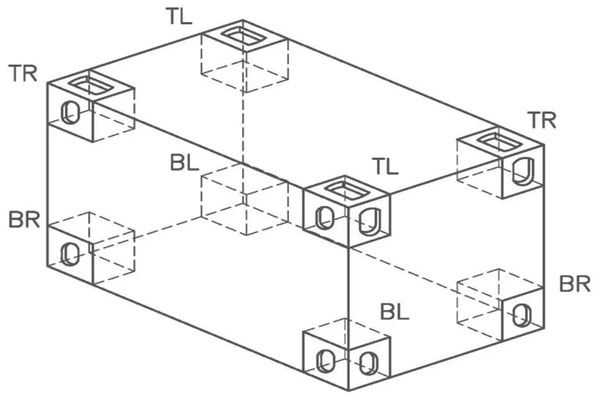 ISO container corner casting drawing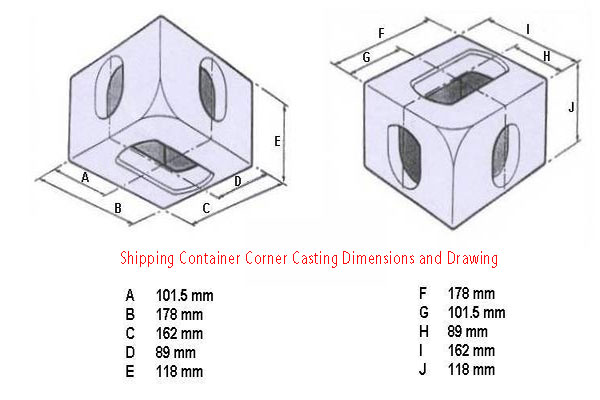 Corner Casting for Container Details
ISO 1161 Container Corner Castings
Material: High Quality Casting Steel, SCW 480, SCW 490
Size: 178mm x 162mm x 118mm
Wall Thickness: 3/4 "
Weight: 11.00 kgs/PCS.
American Bureau of Shipping (ABS) Tested and Certified and with dimensional requirements of ISO 1161
Standard Set: 8pcs/set,including 2TL,2TR,2BL,2BR
Surface Treatment: Raw / Painting
HS Code:7326909000
Packing: 100 pcs are packed into one pallet, 250 sets into one 20ft container
Applications:Dry cargo container, refrigerated container, folding container, open top container, mobile home, steel structure
Container corner casting manufacturer in China
JC Casting is a container corner casting manufacturer and supplier in China.
JC Casting specialized in manufacturing and selling Container corner fittings(corner casting) and other container parts. We have more than 10 years of ship container cargo lashing and securing production experience. From pattern designing & making to shell molds & cores creation and assembly. From pouring to shake-out, from cutting off raw castings to heat treatment and finishing. Each product we design and manufacture must comply with the most stringent safety and quality standards. To meet ISO 1161 standard.
Our partners: COSCO,CSCL,EVERGREEN,PIL,MAERSK,OOCL,"K" LINE,CMA-CGM.
WE ALSO SUPPLY MORE CONTAINER PARTS
Container Door Parts
| | |
| --- | --- |
| Descriptions | Dimensions(mm) |
| Cam LH | ISO |
| Cam RH | ISO |
| Keeper LH | ISO |
| Keeper RH | ISO |
| Bear'g Bracket Outer L | ISO |
| Split Bush Small | ISO |
| Bear'g Bracket Outer S | ISO |
| Split Bush Large | ISO |
| Anti – Rack Ring | ISO |
| Door Handle Forge | ISO |
| Handle Hub | ISO |
| Rivet | ISO |
| Door Gasket | 2400 mm |
| Door Gasket | 2400 mm |
| Set Of Seal | ISO |
| Hinge Blade | ISO |
| Hinge Pin | ISO |
| Hinge Lug | ISO |
Flooring Plywood :
| | |
| --- | --- |
| Flooring Plywood | 28 x1160x2400 |
Container Roof Panel (Corten)
| | |
| --- | --- |
| Container Roof Panel | 2x1045x2356 |
| Roof Panel Patch | 2x1045x600 |
| Side Panel | 2x1116x2700 |
| Side Panel | 2x1116x2400 |
| Front End Panel | 2x1024x2400 |
| Front End Panel | 2x1024x2700 |
| Door Panel | 2x943x1953 |
Buttress (Corten)
| | |
| --- | --- |
| Front Coner Post | 6×2400 |
| Front Coner Post | 6×2700 |
| Rear Corner Post | 6×2400 |
| Rear Corner Post | 6×2700 |
| Top Side Rail | Square 3.5x60x60x6000 |
| Bottom Side Rail | 4x48x162x30x3000 |
| Door Sill | 4x158x150x2400 |
| Door Header | 4x130x110x110x2400 |
| Front Bottom Rail | 5x32x40x75x154x40x2400 |
| Container Cross Member | U4x45x45x2330 |
| Container Cross Member | U4x45x75x2330 |