A meat grinder is a kitchen appliance for cutting and fine chopping. It can works for raw or cooked meat, fish, vegetables, or other food. With a meat grinder, we can grind the meat we want. We only need to wash the meat, put it into the grinder body, then shake the handle to work. It is very convenient for our daily life.
What are the meat grinder parts?
Like other food machinery, a meat grinder is an assembled machine. It is made up of small components. They include grinder body, bushing, auger, cutting knife, grinding plate, locknut, handle and handle screw.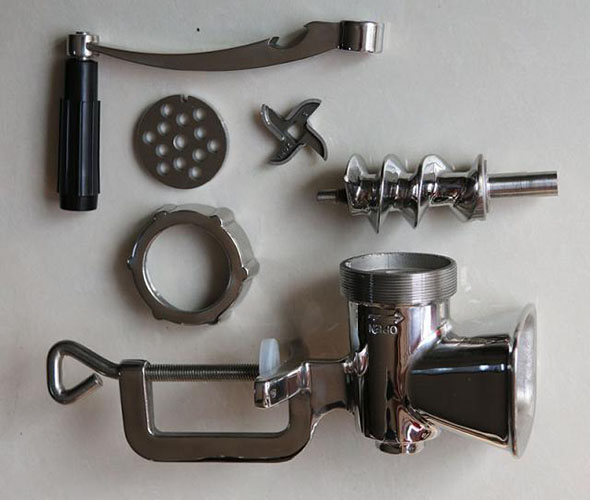 Meat grinder parts materials
As the above image showing, it is the full set components of a meat grinder. The whole set machine is made of stainless steel. The most process is from the silica sol lost wax investment casting process. Such as grinder body, auger, cutting knife, grinding plate. The popular stainless steel grade is SS304. They have features of high intensity, strength, and long using life.
Why use Stainless Steel Investment Casting for Metal Grinder Parts?
1)High precision. With the investment casting process, the size accuracy can be CT5-6.
2) Stainless steel material will be non-rusting. High corrosion resistance ability.
3) For casting, mirror polishing can upgrade the surface finish.
Investment Casting Supplier for Metal Grinder Parts
JC Casting is an investment casting supplier in China. We focus on silica sol investment casting for food machinery accessories. If you have any stainless steel casting service inquiries in China, email us freely. info@jcccasting.com