Stainless Steel Casting Supplier
JC Casting is a professional stainless steel casting supplier and exporter. Meanwhile, we can provide sand casting and die casting services with our own CNC Machining workshop.
All stainless steel castings are manufactured mainly from our client's drawing or sample. Nowadays, we produce and export high-quality stainless steel investment castings at competitive prices for global companies from Germany, America, UK, Canada and Australia, Italy, etc.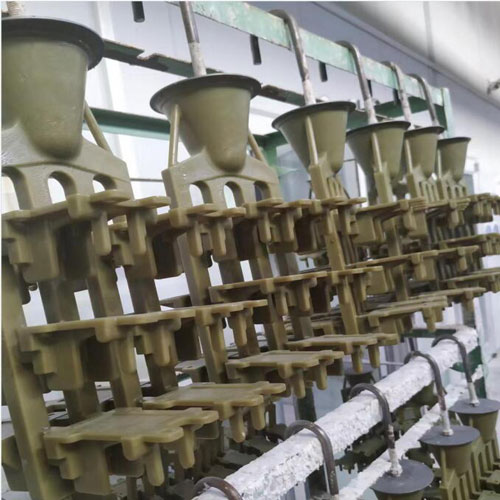 Capabilities
As a china stainless steel casting factory, we have our own Stainless Steel Foundry. With a full production line and an inspection LAB. Our stainless steel casting weight can be from 10g to 100 kg. The wall thickness can reach 3 mm. The industry standard linear tolerances for any investment casting process are ±.005 per inch of length. Also, it can be adjusted to meet your specific process capabilities.125 RMS surface finish can be fabricated. Features include abrasion resistance, corrosion resistance, heat resistance and wear resistance. Capabilities include grinding, machining, testing and inspection, heat treating, welding, rapid prototyping, passivation and contract manufacturing. Meet ANSI, ASTM and AWS standards.
Commonly Cast Stainless Steel
We can pour many types of stainless steel at JC casting foundry. With groups including
1. Ferritic stainless: 430, 444, 409
2. Austenitic stainless: 304, 302, 303, 310, 316, 317, 321, 347
3. Martensitic stainless: 420, 431, 440, 416
4. Duplex stainless: 2304, 2205
These Stainless steel's priority advantage is its excellent corrosion resistance.  These corrosion-resistant properties make stainless steel castings ideal for medical, military, and industrial applications.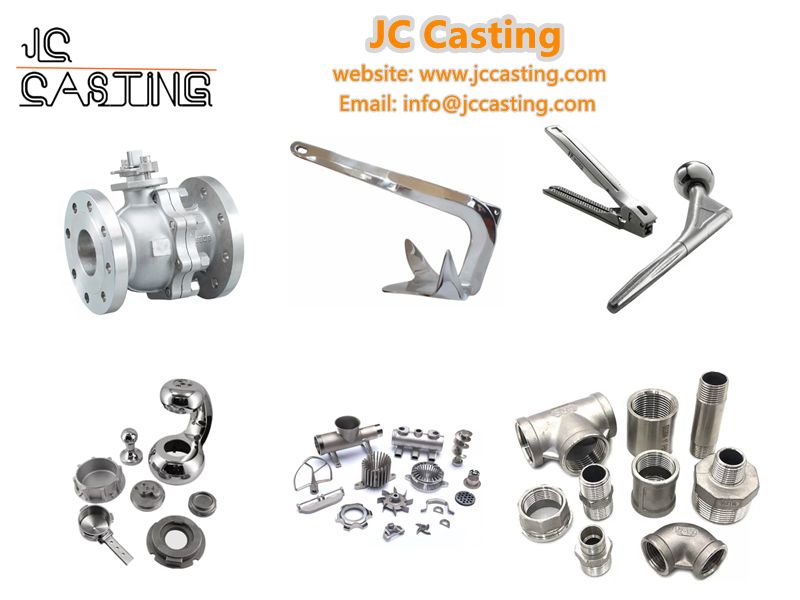 Commonly Cast Stainless Steel Alloys list:
| | | |
| --- | --- | --- |
| Alloy | Common Usage | Applications |
| 304 | Food-grade steel, housings, and bodies304 are widely accepted in the food industry as the standard for cleanliness as well as corrosion resistance. | Medical Mining  Petrochemical |
| 304L / 316L | Similar to other 300 series steel, the "L" stands for low carbon, making it softer but more corrosion-resistant for each grade of material. |   Food & Dairy  Medical  Petrochemical |
| 316 | Housings, gears, and plates316 is known for its superior corrosion resistance, making it ideal for many uses including marine environments. | Automotive  Petrochemical  Food & Dairy |
| 410 & 416 | Housings, bushings, handles, brackets 400 series sheets of steel are high strength and very machinable. They will tend to break rather than bend under intense pressure. |   Automotive Machine Tool Food & Dairy |
| 17-4 | Rods, pins, links, and arms17-4 is the strongest of the stainless steel family and are used on parts that cannot bend. |   Military Medical Machine Tool |
Why choose us?
1—JC Casting is One Shop Stainless Steel Casting Supplier and Company.
Stainless Steel lost wax casting, is the most precision casting method in China.
Heat Treatment: Solution treatment is the typical heat treatment.
Machining: typical machining equipment includes drilling machine, boring machine, milling machines, CNC, etc.
Surface Finish: electropolishing, mirror polishing, vibratory polishing, powder coating, etc.
2. Automatic tooling Services:
a) Better tolerance control.
b) Can prevent damage of wax models caused by manual.
c) Higher production efficiency. 4 times faster than manual operation.
3. Factory Prices & Short Delivery Time :
JC Casting's annual capacity of stainless steel castings has reached 10,000 ton at least. Based on so huge quantity, the unit price can be shared. And it is good for our mass production. So the lower price can come true compared to purchasing stainless steel castings from their Local markets.
4. High District Quality Control:
We have three times' inspections strictly before delivery: initial inspection, routine inspection, and final inspection. Then the related testing reports will be submitted to our clients
5. Convenient Transportation:
200KM is far wary from Qingdao Port, China. We can deliver goods to the seaport within 2 hours.
If you are looking for a reliable Stainless Steel Casting Supplier, or you have any inquiries about stainless steel casting. Welcome email us: info@jccasting.com or WhatsApp: +86 18105467890